[ad_1]

House of prayer International honcho, Pastor Aloysius Bugingo yesterday filed a petition with the Magistrate's court of Entebbe, asking the court to officially dissolve his marriage to estranged wife Teddy Naluswa Bugingo (who he has been with for 29 years, but officially married on December 20, 2013 at Victory Christian Center Ndeeba). The petition, which the preacher filed through his lawyers of Ruhinda Advocates & Solicitors, contains a list of several reasons that Bugingo reckons should compel court to dissolve his marriage to Teddy.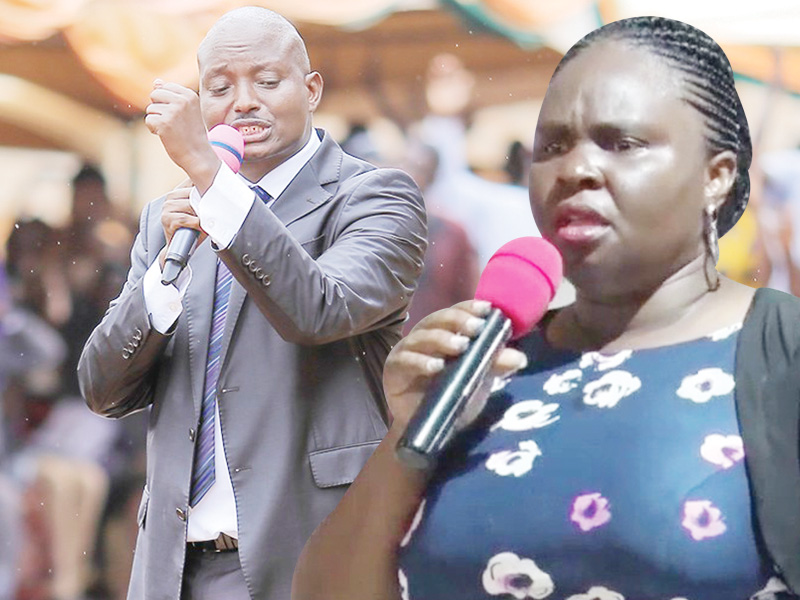 What is most
captivating, however, are the several past incidents involving him and his estranged
wife which Pastor Bugingo lists as evidence that Teddy Naluswa treated him with
cruelty, disrespect and ungratefulness. The pastor reckons that these acts of
cruelty (most of which he says were between 2015 and now) were intentional,
malicious and intended to inflict mental suffering on him, and he asks court to
dissolve the marriage on those grounds.
 Here are some of those:
Pr. Bugingo says that Teddy used to inflict on him physical
violence, hitting him with different things, some of which she thre.  He goes on to state that before moving out
from the Kitende home, he several times  had to lock himself in the room to escape
Naluswa's acts of physical violence.
That on August 10,2015, when the preacher presented the
purchase agreement for Canaan church Land to Naluswa, the wife threw the papers
in his face in the presence of the children, calling him a mad man.
That on several occasions, Teddy filmed him (Pr. Bugingo) while he was naked.
That Naluswa was always in constant communication with Bugingo's known rivals. These aren't disclosed in the affidavit, however it is noted that they are also enemies of House of Prayer Ministry.
Pr. Bugingo says that his wife's threats became so numerous
and grave, in 2016 they forced him to leave their matrimonial home for the fear
of his life and he has not returned to the home since.
That since he left their marital home in 2016, the wife has
habitually sent him very abusive messages while regretting the day she met him
and always praying for divorce.
He also said that not even the counseling from the elders
and family members caused Naluswa to change in any way.
That during the January 2018 family meeting  Ps Edward Kayizi ( mediator) convened at the
couple's Kitende home trying to reconcile them. In that meeting, Naluswa
terribly abused Bugingo and the meeting ended in total chaos. Bugingo was
utterly ashamed.
That she has been giving countless media interviews clearly
aimed at defaming Bugingo besides tarnishing his character.
That despite Bugingo's effort to bring up his daughter
Doreen Gift Bugingo on Christian foundation ,Naluswa has infused her with her
abusive character and the young lady is now being unleashed to repeatedly abuse
Bugingo his own father.
Naluswa has been encouraging her to utter defamatory and
insultive stuff against Bugingo using public media. That upon that Naluswa
uttered defamatory words that aimed at injuring Bugingo's good name and
character.
Bugingo also lists these below as more grounds why court
should separate him and his estranged wife:
That the love Bugingo once had for Naluswa has been swept
away and the two  can therefore live
together anymore — conduct can't be tolerable anymore both in the public and
private given Bugingo's standing as a pastor.
That 3 of their children are now of age. Pastors Aolysius
and Teddy Bugingo have four children aged Dorreen Gift Bugingo 27, Winnie Treasure
Bugingo 22, Jennifer Blessed Bugingo 19, Isaac Miracle Bugingo 4.
That he agrees to equally share the property the two
acquired in their 29 years of marriage.
Comments
comments


[ad_2]

Source link