[ad_1]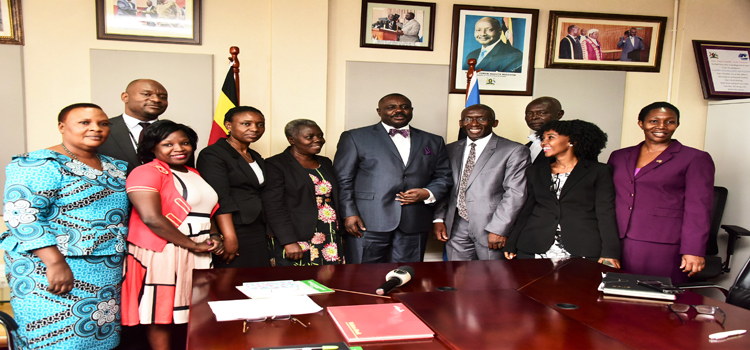 The Deputy Speaker of Parliament, Jacob Oulanyah has commended Civil Society Organizations that provide palliative care and tasked them to engage Government to avail more funding to the sector.
Oulanyah said hat there is need for palliative care services in Uganda which many people have failed to access to due challenges related to costs of treatment.
"This is not a new phenomenon and I am glad there are people who have structurally tackled the problem," said Oulanyah, adding that, "when things are not captured well, they evade the eye of the policy makers".
The Deputy Speaker said this while meeting members of civil society organizations led by Rose Kiwanuka, the Country Director for the Palliative Care Association of Uganda.
The group was presenting a statement to the Deputy Speaker on the budget allocation for palliative care services for the financial year 2019/2020.
Oulanyah committed to follow up on the financial support to palliative care in the new budget framework paper once it is presented to parliament by the Minister for Health.
"You need to present your concerns to the Ministry of Health and carry out budget workshops so that the budget circular for the next financial year that is about to come out has this matter documented," said Oulanyah.
Kiwanuka said there is urgent need for improved palliative care in Uganda including adequate skilled human resource as well inclusion of palliative care on the national health insurance scheme as an essential service.
The Executive Director at the African Palliative Care Association, Dr. Emmanuel Luyirika reiterated the need for a policy on palliative care drawing lessons from other countries like Rwanda, Tanzania, Malawi, Swaziland and Zambia.
Joseph Egolet, a patient receiving palliative care and treatment for cancer said that many Ugandans had no access to national hospitals and financial support to get treatment for non-communicable diseases.
"I request Government to invest in home-based care that will support Ugandans who cannot afford treatment in hospitals," Egolet said.
The World Health Organization describes palliative care s an approach that improves the quality of life of patients and their families facing a problem associated with life-threatening illness, through the prevention and relief of suffering by means of early identification and treatment of pain.
This article was orignally posted here Source link