[ad_1]

By Frank Semata
Botswana, a country with the highest population of elephants in the whole world has lifted ban on elephant hunting with justifications to a rise in "human-elephant conflict" caused by rising elephant numbers.
The cabinet ministers under the Botswana Democratic Party in a report recommended the lifting of a four year hunting ban. The ministry of environment, natural resources, conservation and tourism said in a statement that "Reinstatement of hunting is done in an orderly and ethical manner and accordance with the law and regulations."
Former president of Botswana Ian Khama put in place the prohibition on elephants in 2014, however, as the new government led by incumbent president Mokgweetsi Masis took over power, he set up a committee to assess whether the ban should be overturned, The committee's "general consensus from those consulted was that the hunting ban should be lifted," confirmed by the ministry.
Masisi also ended Botswana's "shoot to kill" anti-poaching policy, which allowed the military to kill suspected poachers.
Conservationists have come out to criticize the move saying that the tourism which accounts to a fifth of the economy second only to diamond mining will be under critical damage.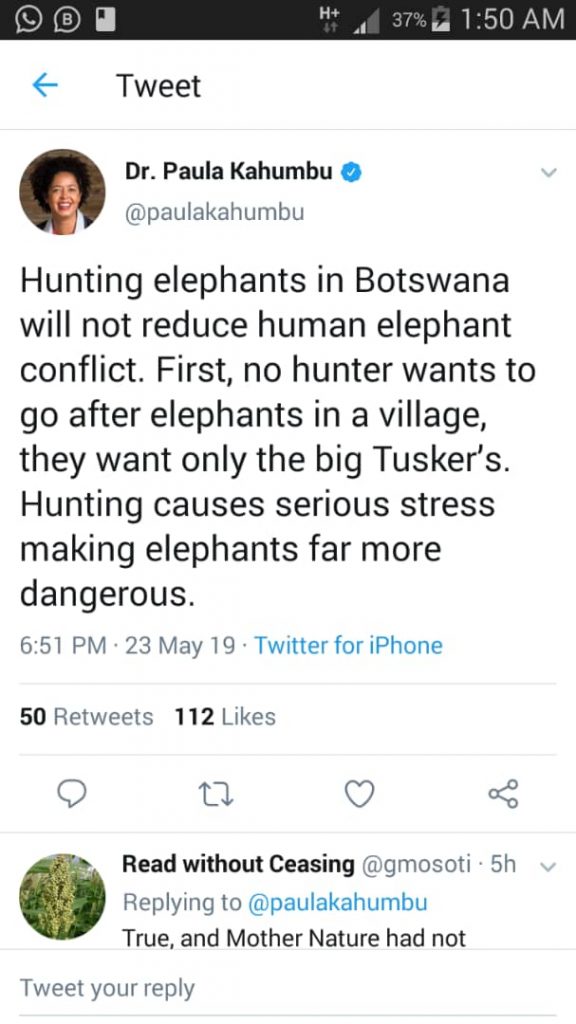 They add that President Mokgweetsi Masisi's motives for lifting the ban are political, Botswana's elections are set to take place in October, and the hunting ban has become a campaign issue, particularly in rural areas where the elephant populations are more prominent.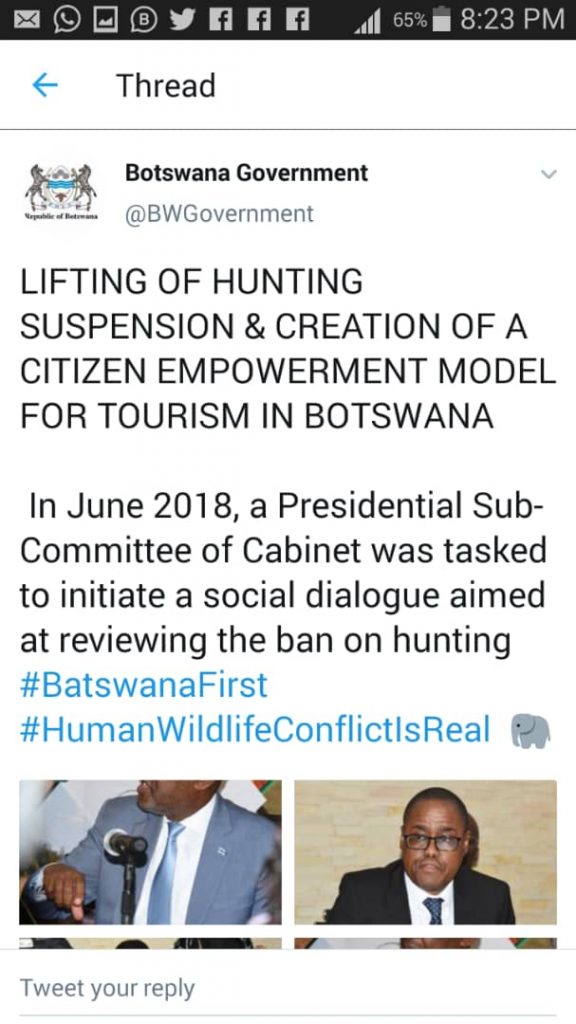 Some experts in the South African country say the wild giants have trippled for the past years estimated to be close to 160,,000. Farmers struggle to keep elephants out of their gardens, where they eat crops and kill people, making the move to lift the hunting ban a potential vote winner among rural communities in the run-up to elections in October.
Most elephants live freely in the North east part of the country, an area of savanna and wetlands, and regularly cross into Zambia, Zimbabwe and Namibia. There are about 415,000 elephants left in Africa with the population having been annihilated through poaching for ivory, mainly in East Africa.
Botawana poaching spree sees over 90 elephants are killed in two months. The CEO of WildlifeDirect, Paula Kahumbu, said in a post on Twitter, warning that the impact of Botswana's decision will be felt across Africa.
This article was orignally posted here Source link