[ad_1]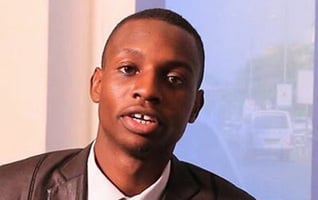 AGGREY NYONDWA
About 26% of the global female population is of reproductive age and therefore undergoing menstruation. Majority of these are young girls of about 18 years and below.
Most of these, especially in Asia and Africa, have been raised to feel ashamed and insecure whenever their periods come.
This is largely because of the archaic cultural and religious taboos that are associated with menstruation.
It's rather shocking to learn that in the 21st century, young women and children are still stigmatised because of menstruation.
The discrimination is largely because of the lack of information about this natural process.
I grew up among four sisters, who I am now sure started undergoing menstruation at 12 years but I never noticed, or even cared. I now know that they, especially the young ones could have needed help and support from me.
I don't remember my father either, bothered about the same.
The thought of them struggling through this alone really hurts and further proves how much this information needs to go out there to both girls and boys, women and men.
Being stigmatized is one thing, and not being supported is another. Unfortunately, some girls suffer both. I recently interacted with a colleague who painfully recounted for me the time she had her first period.
She was 12 years, in her primary six and she had to use toilet paper throughout the two years until she joined senior one when she started using proper pads.
This happened for a number of reasons; having had a non-supportive aunt, ironically a fellow woman who preferred to only use pads for herself and toilet paper for the poor adolescent.
It's either the aunt was cruel or she didn't know that it's equally important for a young girl to use proper pads as well.
The other reason it came to this is because this young girl couldn't reveal 'the secret' of her periods to anyone at school thereby blocking any hope of being helped. I have heard stories of people using leaves, old pieces of clothes and all this is just horrendous!
Over the years, research has proven that a girl misses 10-20% of her school time every month due to menstruation.
This has led to a girl child lagging behind their male counterparts in education.
The main reason why girls will not make it to school in these 12 days a term is because they, and the boys lack appropriate knowledge and information that menstruation is a normal biological process, because of the social norms, religious beliefs and attitudes.
Girls are teased and laughed at, and this has constantly stripped them of their confidence.
According to a study by the International Rescue Committee in 2012, 20% of girl children in Uganda drop out of school due to a shortage of menstrual hygiene supplies, and the majority of these are adolescents aged between 12-18 years.
Poor menstrual hygiene management in many ways contrasts with the UN Sustainable Development Goals (SDGs) particularly; 3, 4, 5 and 6 which call for good health and wellbeing, quality education, gender equality and WASH respectively.
As we celebrate this year's Menstrual Hygiene Day, let us ponder about the different things we can do to support menstrual health in Uganda and the whole world.
This year's theme is It's Time for Action, and action it should be indeed. Men and corporate entities should be challenged to support this cause.
Our sisters, daughters, and mothers have suffered enough already to still be going about looking for resources to tackle menstrual health shortages.
It's important for the messages to reach both boys and girls equally at a young age before menstruation so that both parties are well prepared for this, one party to be ready to go through the process with confidence, and the other party to support in all ways possible.
Uganda Red Cross, with support from the Ministry of Education and Sports and partners have so far kick-started the action by launching The Keep a Girl in School campaign.
The campaign started in March, and it aims at mobilizing pads for 112,805 girls in over 438 schools by the end of its first phase.
A number of corporate bodies and individuals have already embraced the campaign and you are also called upon to join in by contribution only Shs 15, 000 to buy pads for a girl for a whole term.
This is the least we can do to keep them in school. Stigma around menstruation and menstrual hygiene is a violation of several human rights; dignity, non-discrimination, equality, health, privacy and so on (WSSCC, 2013), so let us turn periods into pathways and say #NoMoreLimits, it's everyone's responsibility.
The author is a social and political critic.
This article was orignally posted here Source link