Tanzania's Minister for Constitutional and Legal Affairs Balozi Mahiga has passed away this morning from a 'sudden illness the Government said .
In a statement president, Magufuli said the deceased collapsed at his home in Dodoma and was rushed to the hospital where he died on arrival.
The death comes after two legislators died due to a similar illness this week collapsing and dying.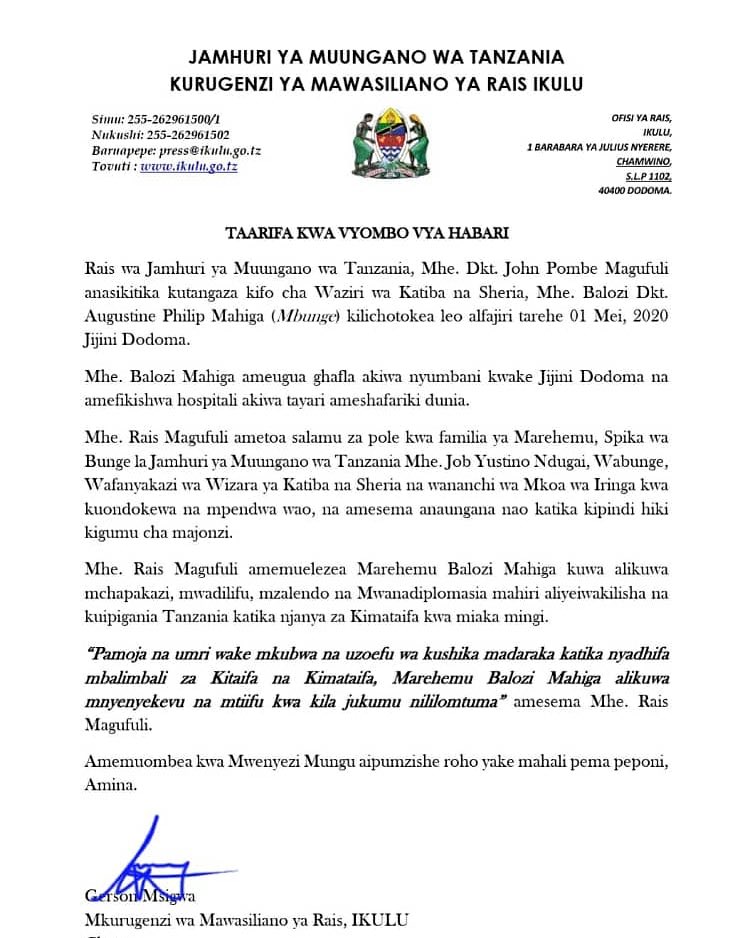 Tanzania has so far reported 480 cases of COVID-19, 16 deaths and 167 recoveries. However, the President John Pombe Magufuli refused to follow safety guidelines from experts to close public places that could limit the spread of the disease.
READ ALSO : Tanzanian parliament suspended as second MP dies .
Balozi Mahiga was a Tanzanian diplomat and former Minister of Foreign Affairs of Tanzania from 2015–2019. He previously served as the Permanent Representative of Tanzania to the United Nations from 2003 to 2010 and as the UN Special Representative and Head of the United Nations Political Office for Somalia from 2010 to 2013.
In December 2015, he was nominated as a Member of Parliament by President John Magufuli and thereafter appointed to the Cabinet as Minister of Foreign Affairs.